PE Foam Pipe Machine/EPE Foam Pipe Machine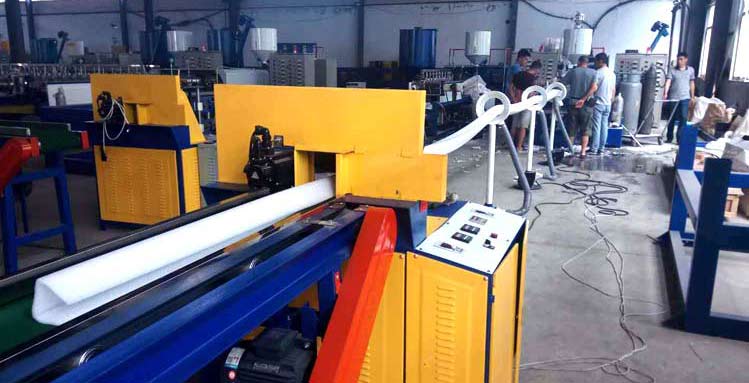 The PE foam pipe machine (EPE profile production line) can use two dies to produce at the same time, so it has a higher capacity. We can change the net without stopping the machine, so there is few waste and it is easy to operate.
EPE foam tube/rod machine (EPE foam pipe machine,EPE profile production line,U-shape EPE foam edge protection product production line) can produce various EPE foam products such as sheet, tube, rod, edge protection product, corner protection product, profiled products etc. Because of its high foaming rate, good elasticity, and good thermal insulation performance, it is widely used in electronics, home appliances, furniture, crafts, fruits, air-conditioning jackets, pipe insulation, toy guardrails and entertainment facilities, and our children's toys, sports and fitness equipments, fisheries, etc.
EPE foam rods are widely used as the edge of mattress, sofa, car seat, sofa backrest as well as the shaping of high-end clothing, etc. It is also used as a filler for construction shrinkage joints. EPE pipes/rods are widely used in many fields——packing industry, construction industry, sports industry, electronic products industry, so it has a bright future.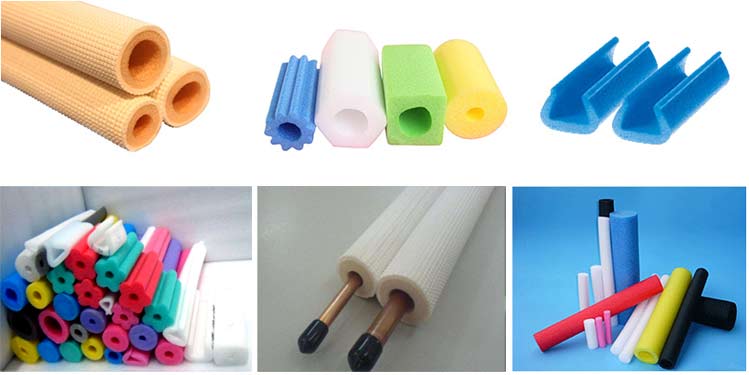 EPE foam pipe machine (EPE rod production line,EPE profile production line) adopts advanced technology which uses butane as physical foaming agent. The machine is energy-saving and efficient and the product foaming rate is high. EPE pipe production line can produce continuously various specifications of foam pipes and foam rods. We can also use different die heads and auxiliary machines to make other products such as foam net, foam sheets, foam strip, foam profile, fruit net cover, etc.
Technical Parameter of PE foam pipe machine/ EPE U-shape protection product extruder/EPE profile production line:
| | | | | | | | | |
| --- | --- | --- | --- | --- | --- | --- | --- | --- |
| Model | Dimension | Screw Diameter | InstalleD Capacity | Foaming Ratio | Output | Tube Outer Diameter | Tube Wall Thickness | Rod Diameter |
| EPE-75 | 11*3*3m | 75mm | 45kW | 25-64 | 30-65kg/h | 20-40mm | 3-10mm | 6-38mm |
| EPE-90 | 12*3*3m | 90mm | 75kW | 25-64 | 35-90kg/h | 20-60mm | 3-15mm | 6-50mm |
| EPE-105 | 13*3*3m | 105mm | 94kW | 25-64 | 40-100kg/h | 25-80mm | 5-20mm | 10-100mm |
| EPE-120 | 15*4*3m | 120mm | 110kW | 25-64 | 95-250kg/h | 30-100mm | 5-25mm | 16-120mm |
| EPE-135 | 17*4*3m | 135mm | 135kW | 25-64 | 120-300kg/h | 40-130mm | 8-30mm | 30-140mm |
| EPE-150 | 20*4*3m | 150mm | 200kW | 25-64 | 200-300kg/h | 50-150mm | 10-40mm | 30-160mm |