EPE Bonding Machine/EPE Thickening Machine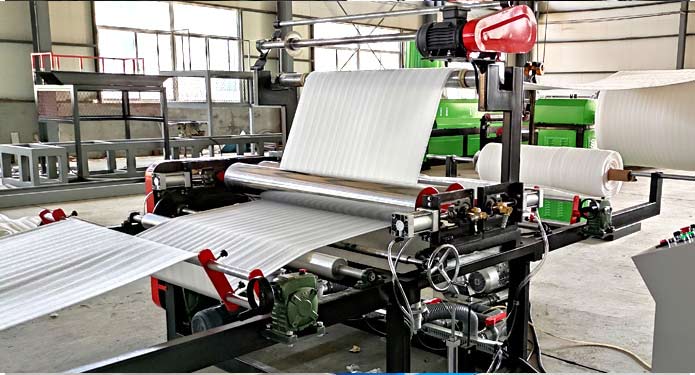 The thickness of the foam sheet produced by the EPE extruder sometimes cannot meet the requirements of customers. In order to produce thicker sheets, we need an epe bonding machine(EPE Thickening Machine). It uses air as a heat transfer medium to connect two pieces of EPE foam sheets together by pressing to achieve the purpose of increasing thickness. It can not only bond epe products, but also bond OPP and woven bags with EPE sheets.
Main parameters of EPE bonding machine(EPE Thickening Machine):
Model

ZH1500

ZH1700

ZH2200

Product Width

1300mm

1500mm

2000mm

Way of Heating

Hot air heating

Main Motor Power

1.5kW

2.2kW

4kW

Installed Power

23kW

28kW

40kW

Dimension

7.2×1.8×2.0m

7.5×2.2×2.0m

8×2.3×2.0m

Weight

2000kg

2500kg

3000kg
By subscribing to our mailing list you will always be updated with the latest news from us.

EPE bonding machine(EPE Thickening Machine). has reasonable structure and high production efficiency. It is easy to operate, and is the ideal equipment for producing thick epe products.
EPE bonding machine(EPE Thickening Machine) features:
1. The heating box adopts a unique structure, which is never deformed. The air blown by the fan is evenly distributed through the distribution box, and the hot air is blown out through the upper hole through the hot box, so that the surface of the epe sheet is melted and sticks together after being pressed by the stick.
2. The precise surface treatment of the hot steel rollers make the precision of the finished products excellent.
3. The automatic electronic thermostat ensures the constant temperature in the heating box.
4. Unique design of pneumatic system ensures the machine's stable and precise operation.