PE Foam Pipe Machine/EPE Foam Pipe Machine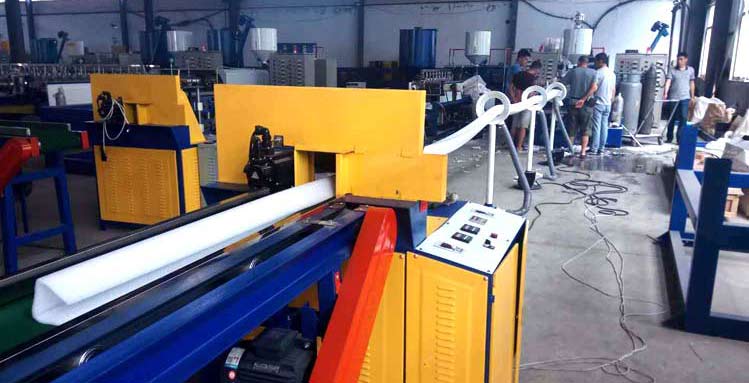 The PE foam pipe machine (EPE profile production line) can use two dies to produce at the same time, so it has a higher capacity. We can change the net without stopping the machine, so there is few waste and it is easy to operate.
EPE foam tube/rod machine (EPE foam pipe machine,EPE profile production line,U-shape EPE foam edge protection product production line) can produce various EPE foam products such as sheet, tube, rod, edge protection product, corner protection product, profiled products etc. Because of its high foaming rate, good elasticity, and good thermal insulation performance, it is widely used in electronics, home appliances, furniture, crafts, fruits, air-conditioning jackets, pipe insulation, toy guardrails and entertainment facilities, and our children's toys, sports and fitness equipments, fisheries, etc.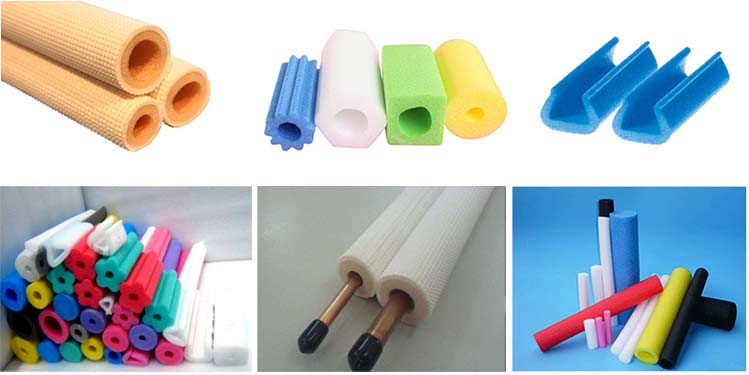 Technical Parameter of PE foam pipe machine/ EPE U-shape protection product extruder/EPE profile production line:
| | | | | | | | | |
| --- | --- | --- | --- | --- | --- | --- | --- | --- |
| Model | Dimension | Screw Diameter | InstalleD Capacity | Foaming Ratio | Output | Tube Outer Diameter | Tube Wall Thickness | Rod Diameter |
| EPE-75 | 11*3*3m | 75mm | 45kW | 25-64 | 30-65kg/h | 20-40mm | 3-10mm | 6-38mm |
| EPE-90 | 12*3*3m | 90mm | 75kW | 25-64 | 35-90kg/h | 20-60mm | 3-15mm | 6-50mm |
| EPE-105 | 13*3*3m | 105mm | 94kW | 25-64 | 40-100kg/h | 25-80mm | 5-20mm | 10-100mm |
| EPE-120 | 15*4*3m | 120mm | 110kW | 25-64 | 95-250kg/h | 30-100mm | 5-25mm | 16-120mm |
| EPE-135 | 17*4*3m | 135mm | 135kW | 25-64 | 120-300kg/h | 40-130mm | 8-30mm | 30-140mm |
| EPE-150 | 20*4*3m | 150mm | 200kW | 25-64 | 200-300kg/h | 50-150mm | 10-40mm | 30-160mm |
By subscribing to our mailing list you will always be updated with the latest news from us.
If you want to beat your competitors in product quality and capacity, you have to use our machine. The reasons are as the following:
1.Stability.
If you use our machine, you can work continuously for 30 days and nights without stopping it. Our customers had experience of working for 35 days and nights without stopping the machine.
2. The density of the EPE products

If you use our machine, you can get products with the lowest density of 14kg/m3 while some of our competitors make products with density of 20kg/m3. Assuming that you make 16kg/m3 products with our machine while your competitors make 20kg/m3 products. To make the same one ton of material, you can get 62.5m3 of products (1000kg ÷ 16kg/m3) while your competitor can get only 50m3 of products. (1000kg ÷ 20kg/m3). In this way, you can produce 12.5m3 more of products. That means you can get more profit of 12.5m3.
Of course, you can adjust the machine to make different densities of products. You can also make the same density products as your competitors if you want. However, your competitors can't make as light products as yours with their machine. That is because the structure of our main machine parts are different from that of other machine manufacturers.

3. Low failure rate.

All the electrical parts of our machine are international famous brands. Their quality and performance are more reliable.
4. Easy operation.

Our machines have been tested by many customers and have been improved many times according to many customers' feedback. The operation of our machine is more and more practical and easier and easier. We are the manufacturer in China that specially makes epe machine only and we are the leader of Chinese EPE foam machinery industry.
5. Professional service team.

We have engineers and technicians who engaged in the overseas installation and technical training. We also have conscientious salesperson and engineers who can give you the timely and best after-sale service.