XPE Laminating Machine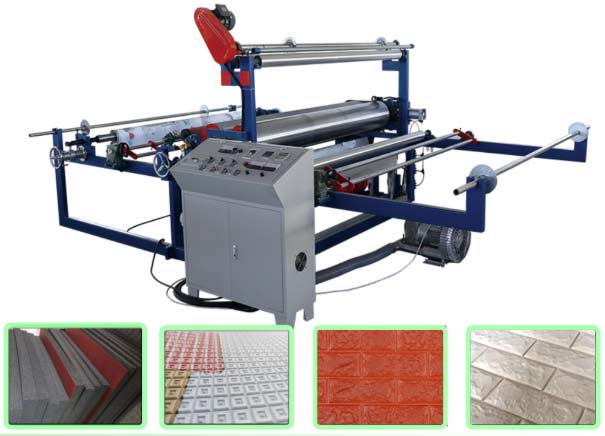 XPE laminating machine is used for laminating EPE, PEF, XPE with PE film, OPP film, aluminum foil, PVC film, knitted cotton, textiles, etc. Besides, its roller has embossing, so it can make different patterns on the product. It can make 3D XPE wall stickers, climbing mats, yoga mats, picnic mats etc. This machine is easy to operate and the embossing is very clear.


IXPE Foam
IXPE (irradiation cross-linked polyethylene) foam is based on low density polyethylene as raw material, change to independent obturator meshed bubble structure by using electronic irradiation. It is a kind of continues foaming freely, smooth surface, closed-cell, independent, well-distributed, no water absorption, unlimited length and adjustable color and density soft foaming material. Compare with other similar foaming materials, the performance of IXPE is more excellent. Especially for environmental protection, sound insulation, water proof, moisture proof, shock absorption, cushioning, flexible, heat preservation, heat insulation, weatherability, aging resistant and lightweight. It can be compounded with aluminum film, aluminum foil, PE film or other materials, widely used in flooring underlayment. It is one of the most environmental protection, best sound insulation and moisture resistant product in flooring underlay
. Excellent thermal insulation

. A high compressive strength
. Good flame retardant properties
. Excellent water resistance
. Excellent resistance to wet moisture effects Low cost
Advantages of our XPE laminating machine:
1. The embossing roller has large diameter(270mm), the pattern can be customized according to customers' requirement.
2. It has hydraulic automatic deviation rectifier, tension controller and magnetic powder clutch to make sure no waste is made, so that the buyer can save cost.
3. The heating box has unique structure which is never deformed. The air blown by the fan is evenly distributed through the distribution box, and the hot air is blown out through the upper hole of the hot box to melt the surface of XPE and PE film, and sticks them together by the pressing of the roller.
4. The surface treatment of the laminating roller is well made so the precision of the finished product is perfect.
5. It has automatic electronic thermostat to ensure the constant temperature in the heating box.
6. The design of pneumatic system is unique, it is precise and stable.
XPE laminating machine can make XPE climbing mat, XPE moisture-proof mat and XPE wall paper.