EPE Foam Mattress Making Machine,PE Foam sheet machine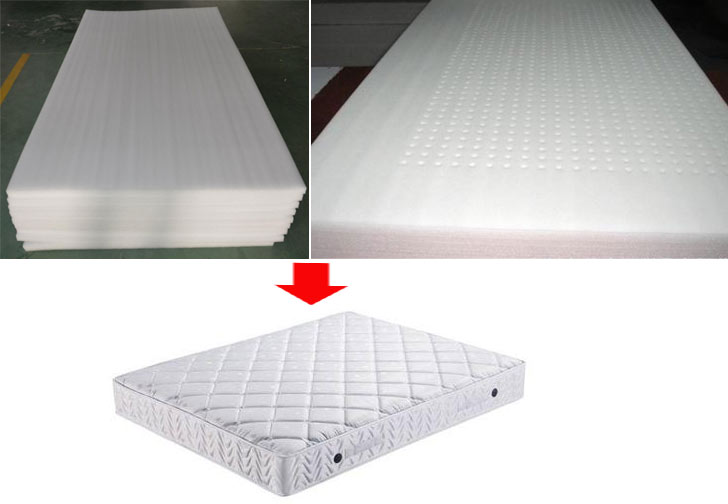 In recent years many foreign customers bought EPE foam mattress making machine( PE Foam sheet machine + pe foam thickening machine ) to make sheets with thickness of 3cm, 5cm or 9cm. Because EPE foam has advantages of thermal insulation, moisture resistance, waterproof and collision prevention, especially because they are of low cost,and EPE foam is non toxic, and thus can be used for food packaging. It is also resistant to the growth of microbes and fungi on its surface. It is odourless. People put these sheets on the floor to take the place of beds. They are very popular with customers in many developing countries such as India and African countries.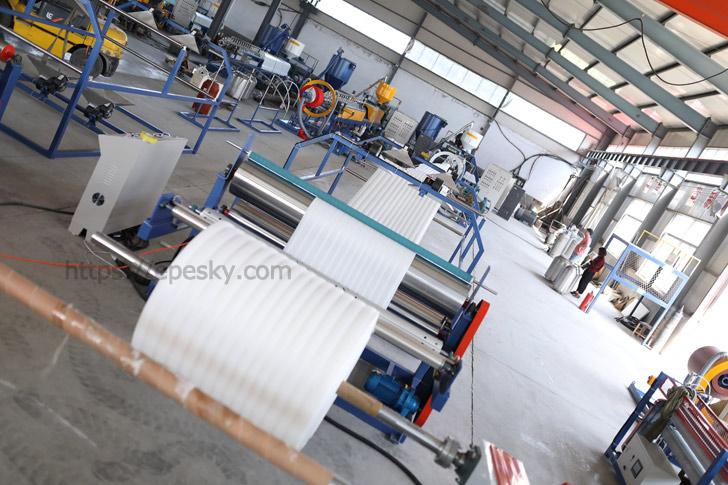 PE Foam sheet machine is mainly used to produce EPE sheet. Using LDPE granule, by process of heating, melting, extruding, curing, foaming and forming to stick, tube, U type, V type epe foam sheet foaming extruder and fruit net. its main features are noise and heat insulation, cushion protection, friction avoid, water, decay and moisture resistance, good elasticity, etc. It can make 0.5-25mm sheet and also can produce all kinds of packing and filling materials by coating or laminating.
PE Foam sheet machine parameter :
Model
Screw dia (mm)
width (mm)
Thickness(mm)
Total power (KW)
Output (kg/h)
Foaming times
Dimension(m)
Weight
EFP-75
75
850~1700
0.2-3
55
25-50
9-64
20*4*3
4T
EFP-90
90
850~1700
0.2-4
75
60-90
22*4*3
5T
EFP-105
105
850~1700
0.3-6.5
95
80-120
25*4*3
5.5T
EFP-120
120
850~1700
0.5-8
115
120-180
27*4*3
6T
EFP-135
135
850~1700
1-10
150
170-220
35*4*3
7.5T
EFP-150
150
850~1700
2-12
220
250-300
38*7*3
10T
EFP-170
170
850~1700
2-14
320
100-450
40*7*3
12T
EFP-180
180
850~2200
3-16
330
300-500
41*7*3
13T
EFP-200
200
850~2200
3-25
400
350-650
42*7*3
14T
EFP-220
220
850~2200
3-27
450
400-700
43*7*3
15.5T
EFP-250
250
850~2200
3-30
500
450-800
46*7*3
17T
By subscribing to our mailing list you will always be updated with the latest news from us.
If you want to beat your competitors in product quality and capacity, you have to use our EPE foam mattress making machine,PE foam sheet machine. The reasons are as the following:
1.Stability.
If you use our machine, you can work continuously for 30 days and nights without stopping it. Our customers had experience of working for 35 days and nights without stopping the machine.
2. The density of the EPE products

If you use our machine, you can get products with the lowest density of 14kg/m3 while some of our competitors make products with density of 20kg/m3. Assuming that you make 16kg/m3 products with our machine while your competitors make 20kg/m3 products. To make the same one ton of material, you can get 62.5m3 of products (1000kg ÷ 16kg/m3) while your competitor can get only 50m3 of products. (1000kg ÷ 20kg/m3). In this way, you can produce 12.5m3 more of products. That means you can get more profit of 12.5m3.
Of course, you can adjust the machine to make different densities of products. You can also make the same density products as your competitors if you want. However, your competitors can't make as light products as yours with their machine. That is because the structure of our main machine parts are different from that of other machine manufacturers.

3. Low failure rate.

All the electrical parts of our machine are international famous brands. Their quality and performance are more reliable.
4. Easy operation.

Our machines have been tested by many customers and have been improved many times according to many customers' feedback. The operation of our machine is more and more practical and easier and easier. We are the manufacturer in China that specially makes epe machine only and we are the leader of Chinese EPE foam machinery industry.
5. Professional service team.

We have engineers and technicians who engaged in the overseas installation and technical training. We also have conscientious salesperson and engineers who can give you the timely and best after-sale service.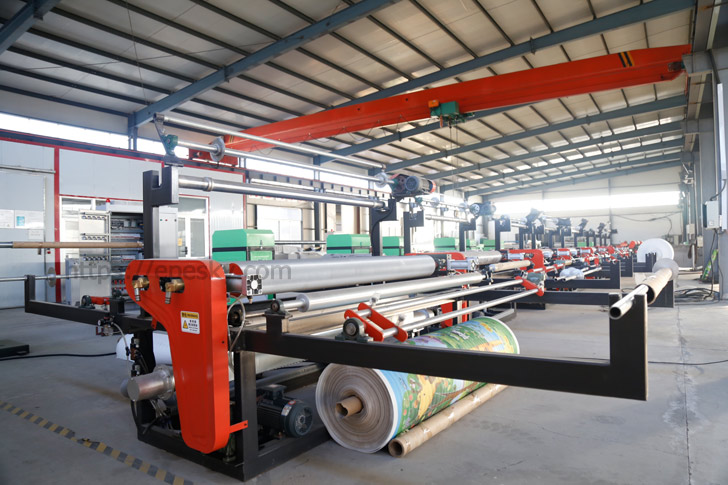 PE foam thickening machine is the deep processing equipment of EPE foamed sheet products and it is mainly used for the adhesive bonding and thickening of EPE foamed sheets and air bubble films. PE foam thickening machine is based on air as heat transfer medium and use high-temperature wind to bond two pieces of EPE foam sheets by extruding to make the foam sheets compound thickening.After bonding,the strength and thickness of foam sheet can be improved.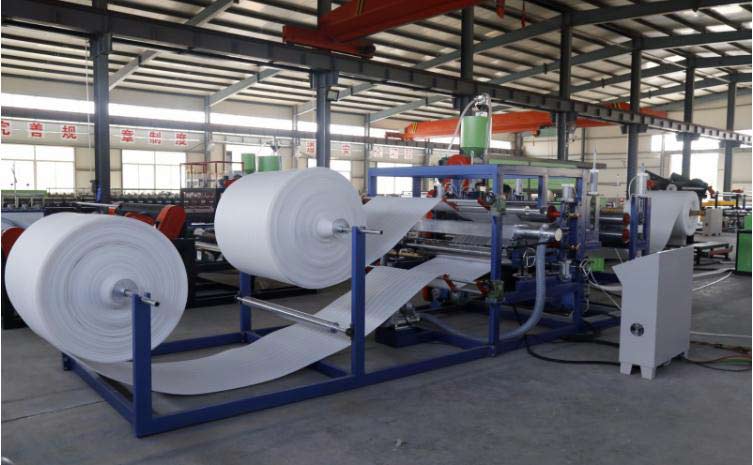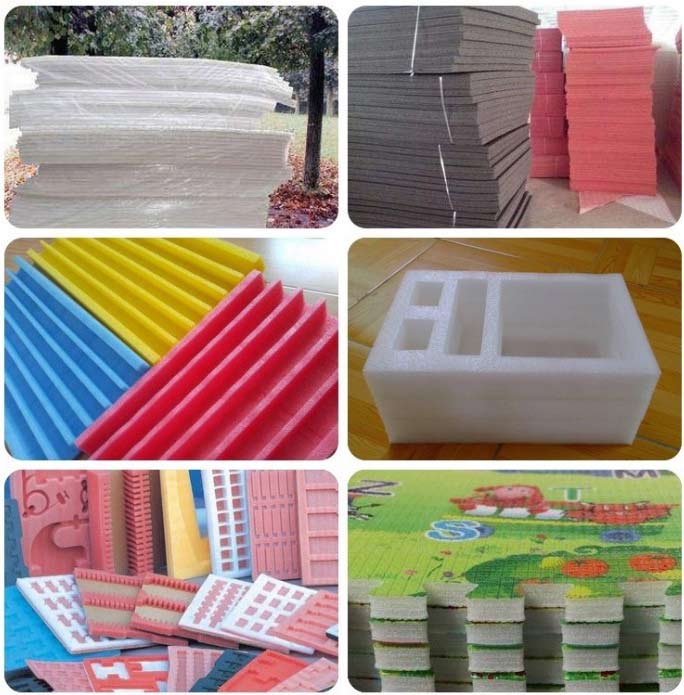 What Are The Advantages of EPE Foam Mattress?
There are multiple advantages of EPE foam, which we will be listing down in this section:
1. Extremely Flexible:
EPE foam is a very flexible material compared to other forms of foam. EPE thus gives most protection for oddly shaped objects.
2. Superior Shock Absorbency:
The closed cell structure of EPE foam makes it able to withstand and absorb high amounts of shock or stress and provide good cushioning to the object it is covering.
3. Regains Form Easily:
Another advantage of expanded polyethylene is that it quickly regains its original shape after the source of stress or shock has been removed. It cannot be broken, fractured, crumbled, or shattered.
4. Resistance To Chemicals:
EPE foam is highly resistant to strong corrosive chemicals like solvents, acids and alkalis. This makes it suitable for providing a barrier or shield for extra protection while storing and handling these chemicals.
5. Resistance to Water/ Moisture:
The chemical structure of expanded polyethylene foam makes it almost impermeable. EPE therefore does not absorb water or allow it to pass through. It is thus used as water protection for materials.
6. Resistance to Static:
Some forms of EPE are highly resistant to static and thus do not attract dust and other tiny particles to its surface.
7. Insulation Properties:
EPE foam has very low thermal conductivity and thus offers the best insulation against heat.
8. Non Toxic And Food Safe:
EPE foam is non toxic, and thus can be used for food packaging. It is also resistant to the growth of microbes and fungi on its surface. It is odourless.
9. Ease of Handling:
EPE foam is fairly easy to use. It is easily cut, moulded, shaped and glued to other objects or to itself. It can easily be shaped into various objects without the use of expensive equipment or moulds.
10. Extremely Light Weight:
Although quite tough, EPE foam is very lightweight, thus making it easy to transport and handle. It can be used for a wide variety of applications due to this property.
11. Usable Temperature Range:
EPE foam can be used within the temperature range of 40 to 70 degrees without affecting its structure or any of its properties thus making it very suitable for a wide variety of applications that require heat or electrical insulation.
12. Aesthetics:
EPE foam can be dyed in a variety of colours, thus allowing for colour coding or purely aesthetic applications.